Needlework is the term used for all of the sewing arts. We say "arts" because each and every type of needlework is truly a work of art. Your projects beautify your home, make perfect gifts and in many cases become heirlooms that are passed down from generation to generation. The type of needlework that you do is a very personal choice.
When you decide to start, take a look at all the different types of needlework projects available. Always start small to be sure you've picked the right project.  You can purchase kits very reasonably priced for almost every type of needlework giving you the opportunity to experience it before moving on to the more challenging. Stitch by Stitch: Needlework for Beginners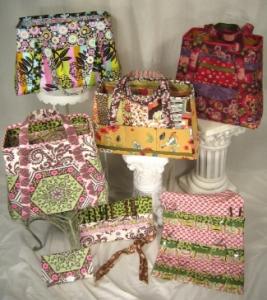 Some of the different types of needlework include: quilting, crochet, knitting, counted cross stitch, stamped cross stitch and latch hooking. This is by no means a complete list but it's a great start to some of the most popular types.
Needlework projects are absolutely endless. There's so much to choose from that you're sure to find the project or projects just right for you.
Threading a needle for the first project is pretty exciting. You're entering a whole new world and you'll probably never give up this relaxing and rewarding hobby. It's also safe to assume that you'll try and become masterful at more than one type of needlework.
So go ahead. Give it a try. Move from the TV to a comfortable chair and get that needle threaded. Encourage other members of your family to try a project too. By choosing two or three different types, you can experience several simultaneously even though you're not doing them personally. You might find that a family member will give up a video game or two just to try their hand at some type of needlework.